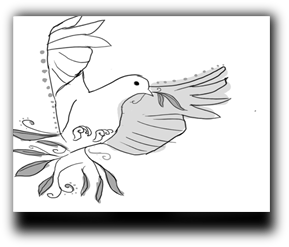 Except for movie showings and other special events, our coalition (formed Nov. 2005) meets on the 4th Tuesday of each month at 6:30 pm. We gather at a variety homes or community facilities in the Owen Sound area. We encourage you to join our email-list and receive notice of meetings directly.

Our primary focus is to keep interested people informed of local Peace & Justice issues occurring in the Grey and Bruce region.

We do this by:
•
E-mailing to you about upcoming local meetings and events that focus on Peace and Justice.

Previous E-Mails:


•
Providing free movie showings and discussions on Peace & Justice themes at the Owen Sound Library.

Previous Movies:

•
Providing This magazine through the Library's Adopt-A-Magazine program.

•
Donating DVDs to the Owen Sound Library, focusing on Peace & Justice. Movies donated
•
Arranging speakers on important topics

Previous Speakers:

•
Gathering for peace and justice-related in Owen Sound.

Previous Gatherings:
Think all this is great and want to help? Then....
•
Tell your friends to add their names to the other 450+ local people who agree (email us)
•
Consider donating to help us with another free showing or great movie
•
Tell us about an upcoming local Peace or Justice event and we'll post it.