A donation has been made from Gwen and Fred in loving memory of Frank Vogelson.
---
Share the love this Valentine's day with a treat for your best friends. 1.00 each. Proceeds to help the homeless.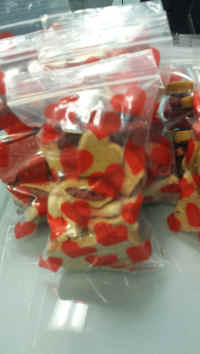 ---
New Year, new tag needed
City of Owen Sound, pets are to be licensed in accordance with By-law No. 2011-155 and By-law No. 2011-156. These By-laws require dogs to be licensed annually and cats once for their lifetime.
Dog tags are being sold at a discount price before March 31, 2016 of 20.00 for fixed dogs, and 35.00 for non fixed. The price will go up to 30.00 and 45.00 after that date.
Cat tags are 30.00 for fixed and 45.00 for non fixed.
Tags may be obtained at the Owen Sound Animal Shelter located at 2125 18th Avenue East, or at City Hall, 808 2nd Ave East, Owen Sound.