OSAS
by: Renee Robins
------------------------------------------------------------------

Recent Posts
-------------------
Jan 31, 2008
__________________________________________________
Happy New Year;
Greyster;
Teeter;
Ginger;
January Blues;
Barney;
Babes;
OMG...;
Bear Trap?;
Bubbles;
Boxing Day Blues;
60 Pounder;
Leo;
Forest;
"I Don't Give a S***";
Midnight;
Rogers;
Rabies;
Rough Day on The Job;
Map?;
Heads Up;
Storm of the Century;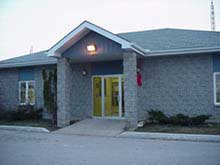 Archives
-------------------
Dec '07 Blog;
Nov '07 Blog;
Oct '07 Blog
Sep '07 Blog;
Aug '07 Blog;
Jul '07 Blog;
Jun '07 Blog;
May '07 Blog;
Apr '07 Blog;
Mar '07 Blog;
Feb '07 Blog;
Jan '07 Blog;
Dec '06 Blog;
Nov '06 Blog;
Oct '06 Blog;
Sep '06 Blog;
Aug '06 Blog;
Jul '06 Blog
Jun '06 Blog;
May '06 Blog;
Apr '06 Blog;
Mar '06 Blog;
Feb '06 Blog

email your comments to:
owensoundanimalshelter@inmail24.com

Success Story:
- They made it... read Renee's blog;
- Read Todd's Interview;
- Little dog pulled
from icy water;

Keep up-to-date
with our schedule.
Storm of the Century
It snowed and snowed and snowed and blowed and it was whiteout conditions most of the time and then it snowed some more - the winds reaching between 80 and 90 kilometres/hour winds. All roads leading to the City were closed and I was stranded at home.

The animals were safe at the Shelter as Sandi walked to the Shelter in that weather for our furry friends ... I owe you big time Sandi.

I watched it blow for hours and all the while I kept thinking about the Falcon and those leather straps dangling and the snow attaching to the bells all the while the wind was getting under his feathers making it impossible for him to seek shelter. I hoped he had found safety because Charles couldn't make it to help him with the roads closed. I messaged his finders about one hundred times, (well enough I am sure) and it seems the Falcon had vanished. I am hoping he found his home, or sanctuary and will be in my thoughts. A predator who feasts on small animals will not be starving, squirrels are everywhere, but I wonder then about the squirrels - where do they go when it snows? I hope they too are warm and that all creatures everywhere found shelter - it wasn't fit for man nor beast yesterday.

Today, was a wonderful day with a lot of cat adoptions - all fixed on Tuesday (except one) and found loving homes. Now, if only I could fix the others and they too would have the same opportunity at a new forever home.

If anyone spots the Falcon, please call the Shelter. I would love a happy ending for him too.
------------------------------------------------------------------

|

Share your comments

with us.
Jan 29, 2008
__________________________________________________
Heads Up
Need another reason to keep your cats inside or to keep an eye on your small pet?
Last night a call came from a friend about a bird-of-prey in their yard. This is something I usually refer to the powers that do this, but with this one there was a big difference.
This big bird, I assume is a Falcon, is staying and feasting on squirrels and has leather jesses tied to its legs. This bird has been handled, been imprinted and likely has been domesticated enough that it doesn't fear people.
We live in an area surrounded by wildlife and it is not uncommon to have visitors, however, generally they fear us and they visit a short time and are off on their way. But not this one.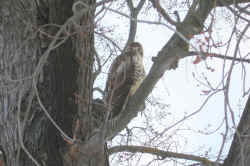 I should mention here, about Skeet our little Chihuahua from Massey of yesterday's blog? He was blocks from this big guy! He was very close to being big bird's supper! How sad would that have been? As these birds are not my specialty I had to call others. Of course my first thought was to call the MNR (I got no response - figures).
I was thinking of the bird dragging those straps, and struggling in the bad weather, potentially he may have been housed inside and how cold is for him now? So, I try a little harder and I have connections, and today, I made a few phone calls. Thank you Gloria, Hush puppies momma, who also works for the Conservation Authority. I knew they had a bird demo this past summer, as I attended, and I hoped by some chance she might know the guy who gave the demo and direct me to him.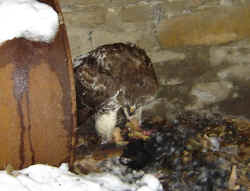 I remember the banded pigeon we returned home and think perhaps the same is possible for this guy. What luck, Charles, of Peregrine International was the guy I needed to talk to. He checked for reports of missing birds and couldn't find any. He also checked for local falcon keepers in the area - there are none, and he used the photos to id the bird and gave me all sorts of wonderful information. I also found out that Charles is a rescue too. I now know this bird-of-prey is a juvenile and was likely released to return to his person (an inexperienced person, I should add, as his jesses were to big for him which limited his flying abilities).
Charles plans on coming here tomorrow with a few of his birds, some bait and hopes to retrieve the bird. These big birds feed early morning and early evening so Charles may be here a while.
I hope to catch the show! I would love to get my hands on him! However, with my own safety in mind, I will leave it to the expert. Thank you Charles for coming to the rescue. I can't wait for the update tomorrow!
------------------------------------------------------------------

|

Share your Comments (1)

with us.
Jan 28, 2008
__________________________________________________
Map?
He was wandering the streets at 9:00 pm and this 3 pound Chihuahua was lost and searching for his home.
A passerby found him, uncertain as to what to do with him she took him home. It was about 11 pm when we received the call. I must admit, as this was the sixth page of the day I was a little cranky.
She would have kept him the night but oddly had a Chihuahua at home who we know as Earl (from our Shelter) who did not want to share his home with this lost, tiny fella.
As duty calls we were off to retrieve him and by midnight this boy was certainly well traveled - Owen Sound to Shallow Lake (back roads) and back to Owen Sound to my kitchen. Fortunately, he traveled well and was a perfect little gentleman. A frantic dog sitter called shortly after midnight and arrangements were made to meet them at 1:00 pm, the next day, when the Shelter opened.
Who knew how well traveled this little fella really was as his home was miles away in Massey. He would have never found it on his own as Massey (not the one near Chatsworth) was the one close to Espanola, about six hours away!
How lucky his finder had no intention of keeping him, and tracked down the right people to call as Skeet had no ID and no way to find where he belonged. I would have never searched Espanola! The dog sitter, who lost him, will likely never do that again and must be relieved to have him back with her.
Remember to make sure your pet has ID, especially when traveling far from home, so they will be sure to find home again.
------------------------------------------------------------------

|

Share your comments

with us.
Jan 25, 2008
__________________________________________________
Rough Day on The Job
So, you think you have bad days? I just have to tell you a bit about mine. You can laugh, it's OK ... I am still laughing.

The police called the Shelter about a Shepherd'ish dog on the run for two days, circling an area by the water and a factory. As soon as I hung up I am out the door in search for a black and tan dog. As I drove I remembered the last time I had chased a dog in the same area - Australian Cattle dog - chased for days and later called Kiwi (I'll bet you remember). I thought about how Aussi's are the hardest to catch as they generally run with their tail tucked and get you when you turn - almost impossible to catch.

So, I drove around in circles and didn't see a dog, but saw prints in the snow and I decided to do one more circle and then I suddenly see him. He is black and tan and running full speed at my truck - I hit the breaks - he dodges and avoids two other cars and is off and running.
I immediately pulled over and throw the truck into park and jump out to get the dog... I'm off and running. The snow is now waist deep as I'm off the road and into a field chasing a dog that is moving so much faster than I am.

I stop, I turn and the dog turns and comes barreling right at me. I am now bent low offering the leash and out comes his teeth ... clearly he doesn't appreciate me trying to catch him. What am I going do? I politely offer it a cookie? Cookie? This is actually a trick as you never really know if the dog means to be aggressive until you offer that cookie. He stopped, backed up, then takes off running again. I did manage to get a good look at him and noted that he was definitely part Aussie (OMG). Good job I think, you have just jinxed yourself - here we go again.

This game of cat and mouse continues for a long time. By now my nose is running, my fingers stinging and every part of me is starting to freeze (the weather today was so cold and windy) but I'm not giving up. I decided on a new plan of action... I walked backwards because this dog tried to get me when I turned, so instead I called it to me while I was walking away (are you confused yet?). It was confusing and that's why it worked, and I also dragged the leash behind me (mostly because my fingers were frozen) just for fun.

The dog thought this was a great game and started to chase the leash and actually dive at it, but I still couldn't get close enough to catch him. He jumped - I jumped - he jumped back - I shuffled three steps and then he was off again, but this time into oncoming traffic. This is where I panic and run after him as he takes off even further.
I was just about to quit, but tried the backward walk again with the leash, when I suddenly look to my left and notice that the entire factory staff have come out to watch me chase the dog ... yup, here I am frozen from my head to my toes and still chasing a dog that won't get caught and being watched by an audience.

This was the time I headed to the truck to think on an alternate plan (warm up) and discovered to my horror that in my panic to put the truck into park and jump out after the dog the truck was locked and the keys were in the ignition. To make matters worse, that entire group of people from the factory were still watching me and I had to face them to call the Shelter to get the extra key for the truck. Truly a great day! :(

On the plus side, the dog's owners were located and my keys finally arrived! What a day!
------------------------------------------------------------------

|

Share your Comments (1)

with us.
Jan 24, 2008
__________________________________________________
Rabies
Did you hear the news today ... someone purchased a puppy from a flea Market in Toronto which came from a farm in Chesley.
If you have seen or handled any of these puppies from that flea market you are at risk and could potentially have rabies.
This dog from Chesley that had the puppies was probably never vaccinated for rabies. Error one - dog not vacinated, error two is that she left outside with wildlife, error three - the owner is selling dogs at a flea market. This dog could have possibly killed a skunk which could have lead to the dog and puppies getting rabies.
Do not touch or handle animals that you or do not know their history.
Do not buy puppies at flea markets - not only may these pups have rabies - they could also come from puppy mills.
Do not buy a dog without a history.
I am dumbfounded again that people are not always the smartest. Please have your pets vaccinated, know what your getting and for goodness sakes be careful. All of this could have been easily prevented.
Rabies kills and is not to be taken lightly. Keep your pets away from wildlife and make sure you take all precautions and be safe.
Please call public health for rabies information and to report any contact with those pups from the flea market or in the Chesley area.
------------------------------------------------------------------

|

Share your comments

with us.
Jan 23, 2008
__________________________________________________
Rogers
A trip to Rogers today prompted another Rogers visit soon.
We spoke about Forest who was today's guest, and how she came to be at the Shelter. Forest loved the attention, and the spotlight (it was really quite warm) and she curled up perfectly and played the star. Lots of ewws and awwws as we talked about the day I met her with her crunchy pelvis, and the struggle we had been through.
Kris caught me after the show and asked me to do another show on "why pets should not be outside" and the "hazards of the cold weather". She added "...last year I came to tape a dog and in came this frozen cat, you called him Kisco". I smiled remembering that day and then she added "...I know, sadly, you will get another" soon. Unfortunately, she was right as Chloe or Roadrunner immediately came to mind with her frostbitten ear, now gone, and the wound to her side. I was sure this cat would have a great story to tell for the next show. What I did not anticipate was while we taped in came another to the Shelter. A six month old tabby, female, thin and dehydrated (water freezes in this weather people) not nearly in as rough shape as Kisco, but very severe. I am certain another few days and this cat would not have made it. Kris filmed this girl too and the irony was she got just just what she wanted. She also was right ... "I had another" in as bad a shape.
I hope that this story will make a difference this time and that this last cat will be the last for this winter? I'm hoping.
------------------------------------------------------------------

|

Share your comments

with us.
Jan 22, 2008
__________________________________________________
Midnight
Under strange circumstances, two weeks ago, I met an older man with an older dog. I went ironically with my sister to look at a house that was for sale. I heard a terribly sad story about how the wife had passed and how the man was immobilized by a stroke was now moving. He could not speak or communicate with us and was present as I helped her look at the home.
My heart broke for him and all I thought how thankful I was he had a dog, if nothing else, someone to keep him company. I could not help but wonder who would care for this dog, knowing that the older gentlemen couldn't care for him, but at the same time regretting feeling bad for the dog and knowing this man was in such need.
When a call came to surrender a Sheltie, a week later, I never put it all together and a caregiver for a man would be surrendering the dog. Again, never knowing this was the same dog, but when I saw the dog's sad eyes, I recognized him immediately and my heart sank.
There were tears in my eyes as I led the Sheltie away to a cage knowing there was nothing else I could do but accept him. I didn't know his age or history and I was unable to communicate with his owner. I spent hours on the phone searching for anyone who could give me some answers and I managed to turn up a name for the dog, but that was where it ended.
Midnight was the name of this older boy who was so sad and missing his family. I imagined him to be the wife's dog and wondered how much he must miss her. I remembered a cat in the home and remembered how quiet it sat. I tried to use Midnight's teeth to get an age on him, but the condition left me with nothing but "old". I hoped a family member would ask for him and held Midnight a few extra days, but when I discovered there was none I put out an urgent plea to help this boy.
Old Roy was my last old Sheltie type and I knew if we had placed him (on death's door really) I knew there was hope for this old man. So, on a hunch, I sent them a picture with one of these attached :)
I was hopeful but thought it was in vain and did not expect the response I got. Not only has Midnight gone home to the best of homes (and my in-law's neighbour which means I will see him often), but they too felt bad for Midnight's owner and have agreed to visit him. My eyes are tearing as I type this and again I am reminded that there is always a "chance".
Thank you for taking him into your lives, you have saved his and touched mine, again.
------------------------------------------------------------------

|

Share your Comments (1)

with us.
Jan 21, 2008
__________________________________________________
"I Don't Give a S***"
She came to me such a beautiful girl and with such a loving heart. So pretty in so many ways and yet he called her "...I donno, don't care, and don't give a S***."
With no name it was clear she was unloved and I was so sad for her. At three years of age he surrendered her; clearly never loving her. I couldn't imagine having a cat for so long and not feeling like she was family, nor could I imagine how she must have felt in a home where they did not care. Likely purchased for her great appearance and her special breeding, how sad that the novelty of that wore off and her personality didn't win them over.
I called her Leila as "don't care" just didn't cut it and the thoughts of someone passing her up with a history like that and thinking that maybe it was somehow her fault just wouldn't do.
Her new people saw her online and were drawn to her beautiful face. I knew this time it would be different when they added "...who cares so little for their pet ... this girl needs loved!" and it was those same concerns I had that made them come and meet her.
When they picked her up she kissed them; thankful for the attention. They petted her and she rolled over showing how happy this made her.
I am pleased to know she will be loved as she deserves to be thankful that "...the I don't give a S***" is no longer something that she will be a part of.
------------------------------------------------------------------

|

Share your comments

with us.
Jan 18, 2008
__________________________________________________
Forest
It has been twelve weeks of waiting, tender care and lots of love. Weeks of meds, keeping her still and finally her day has come.
She came to me a crumbled mess after an encounter with a car. Her pelvis crinkled when I held her and she could not walk on her own. I called her Forest after the famous Forest Gump ... as she was well, gumpy. As you know this brings them luck and provides us a smile when looking at something so sad. She was thin, hungry and had an upper respiratory infection. This is a sign that mother nature would finish her off soon as she struggled to make it outside on her own. Her reclaiming period came and went and with no home for her to be found we loved her and treated her regardless. I knew that if she could be saved it would be worth it.
Forest is now fat, moves almost entirely perfect and to see her you would not know the horrible story her body went through. I am excited to move her to the available adoption list and am thankful to those made donations to help her.
Just as I celebrate Forest's availability another comes to me in a broken state needing care who also tangled with a car. It is uncertain how this "Roadrunner" ended up on a roof, or how long it had been since her encounter, but she needs meds, special care and TLC to heal her wounds. I am hoping there will be a happy ending for her as well and that someday she will be placed on the available list.
Good luck to Forest as the journey with me is nearing an end. I hope your friend is as successful.
------------------------------------------------------------------

|

Share your comments

with us.
Jan 17, 2008
__________________________________________________
Leo
When he came through the door he was the big cowardly lion. He ducked and hid behind the transporter and ran from the camera. Snagging a photo was very difficult and I feared his stay at the Keswick Pound was not a pleasant one; I feared this "friendly" dog needed some serious rehabilitation before we could place him.
There was fear in his eyes and his tail was tucked firmly between his legs. I worried for him and worried that it would be months before he would go to a loving home.
Although he was handsome, and a big goof, his fear concerned me. Knowing he had had such a stressful day, with three car rides, three different groups of strangers I had to take that into consideration. The camera snap is a great way to start evaluating as scared as he was there was no aggression and no teeth showing, growling or lunging at me because I had frightened him.
I thought about him all night, imagining him cowering in the corner. What a pleasant surprise when he met me the next day with his tail wagging, paws outstretched, begging me for love. My pleasure increased when the door opened and he leapt onto me, longing for attention. A gentle touch and he rolled right over, begging for belly rubs and then offered kisses as my reward. A big lap dog (way too big for my lap) and a gentle giant; thankfully.
It is so much easier to place those who welcome people and today Leo was saved. He was placed into loving arms and in loving arms now he will stay. Tail wagging he jogged to that car with his new family for his next journey.
------------------------------------------------------------------

|

Share your Comments (1)

with us.
Jan 16, 2008
__________________________________________________
60 Pounder
Somehow, someway, a very large (guessing 60-80 lbs) raccoon ended up in a storm drain. A sewer with an opening about the size of a tuna can to peek out. Below him is ice cold water. He perches on the top of a ladder and cannot reach the service. I have no idea how he got there, but there he sits.
A dog walker spots him (the dog actually) and calls us for help. We gave it the night in the hope he would just leave, but when he remained today and we knew we needed to do something.
So, how do you remove a 60 pound wild animal from a drain hole? Tried the snare pole to lift him (a raccoon has tiny ears) and the lead slips right off, tried that one four times. Tried to scoop him in the fish net (the net was too small for his wide belly) but he fell out two times, we tried spooking him out, coaxing him out, and tying bed sheets to make him a ladder (it works on prison break!).

When we nearly gave up, I thought about a basket dropped into the hole where he may climb into and he could be shuttled up. Sounded like a great plan except try telling a raccoon to get into the bucket ... Passerby's offered to help - one man took the net (and tried and failed - lol).
Another offered some fish (here racoon?).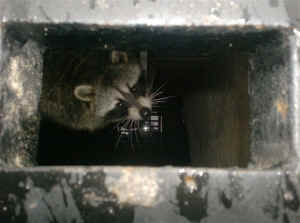 I thought of the shows on TV where someone needs to be rescued, surely they just lower a rope! Todd reminded me that in real life, you say "...hey, grab the rope", again we don't speak the same language.

The MNR would not lift him out alive nor the police and if I was sure no one would fall down that hole I would just prop the top open and set a board down for the racoon to climb out, but I couldn't.

I was almost certain I was going in after him but sure he would tear me apart when I approached him. A wild stressed out big raccoon face-to-face is a bad idea.

Then I got smart.

The snare pole once again, but this time behind his shoulders to create a harness. With two of us together - one on his front end the other with the net to support the other we wiggled him out of there! Whoo Hoo ... what a feeling of success - which was immediately followed by LOOK OUT and RUN! as the racoon was now looking to get even. Unrestrained, he was sure unhappy and it was me running for the truck as he headed off into the field (might have been the camera that upset him - you know those celebrities).

I am muddy, smelling much like sewer and my knees are cut and bruised from the gravel and I am frozen. BUT I am thrilled - thrilled to have seen him off and running and alive for another day. See the slideshow on our front page ...>
------------------------------------------------------------------

|

Share your comments

with us.
Jan 15, 2008
__________________________________________________
Boxing Day Blues
It is time. It is time for the Christmas puppies who could not be sold ... their people are now calling. It is time for the spontaneous dog adoptions to be returned ... poor Norton, it is time for the puppies who were a great idea at Christmas, and not so great now that they are chewing, and pooping in the house to come in.
When Norton left, I would have bet a million dollars I would see him again. I just had that feeling about his adoption which was a decision based on the idea of a pup.
I discouraged, gave them time to think and all they said "...seemed right...". It is just impossible for me to refuse them based on a hunch. I could tell them I am intuitive, but fear no one would believe it.
Monies were not returned and a fee was charged for his return. It was the least I could do for Norton. I am not psychic and not God.
I was pleased that Norton was happy to see me and all full of beans on his arrival. I was thankful for that and that no harm had come to him. I'm hoping his next home is his forever home.
------------------------------------------------------------------

|

Share your comments

with us.
Jan 14, 2008
__________________________________________________
Bubbles
It took some time and it took some money, but today Bubbles went home and boy it was worth it.
The feeling I got from hearing "...we love her already..." was a million times better than it would have been to not fight this battle with her. When I saw her beat up, swollen and bleeding face (like a boxer who had just stepped out of the ring), I had no idea what was ahead of us.
When the "bubbles" were discovered inside her mouth, I was devastated and when they did not just heal up and go away I was certain I would be watching this fighter die. She was slowly failing as her appetite could not be fully satisfied with this mouth impairment. Unsure of what her future held, it was weeks of watching and waiting.
Thanks to your generous donations this girl could be given the chance she needed, her disfigurement was removed, and today she was given a new chance at forever.
There is the deepest feeling of success tonight and we are all smiling as our prayers were answered and our special girl goes home.
------------------------------------------------------------------

|

Share your comments

with us.
Jan 11, 2008
__________________________________________________
Bear Trap?
The Sun Times, Owen Sound paper for Wednesday had an article on the front page. I read it and didn't forget.
Although preoccupied by "dogs to be shot", "a ferret in my kitchen", "Shelter in Hamilton going on strike and all animals to be euthanized", and "puppy mill shut down", and about 50 wildlife calls - I was reminded today by the radio, and TV there was issues to be addressed, and thankfully I had the opportunity to cover it properly.
The article titled "Dog Crushed to Death in Trap" was of Fi a five year old Chow Chow mix and while off with her owner on a walk became entangled and strangled in an animal trap. It read of "...her eyes bulging out and her tongue out...". Honestly it was not something I cared to imagine and didn't forget. This dog passed while the owner was struggling to take the trap off the dog's head.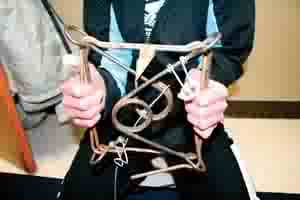 This trap appears to be a leg hold trap and is large enough for a coyote or wolf (and would entice a dog as they are baited). These traps are entirely legal and used locally by hunters and trappers and are more common than people know (at least we now do). So many animals have gone missing that I am sure they end up this way, starving and held firmly by their leg (some chew their legs off to be free).
These traps are cruel, inhumane and should not be legal on anyone's property. They should never be used on a wild animal or a person's dog - it is wrong. Please call the MNR (who explained these traps are legal) if you want to help put an end to them.
Keep your pets on a leash and cats indoors. I have said it so many many times, keep your cats in and your dogs confined. You wouldn't want your friend to die a slow or excruciating death.
It is a very sad day for Fi and a sad day for her owner.
Let's hope that in Fi's memory these traps become banned as they should be.
------------------------------------------------------------------

|

Share your Comments (1)

with us.
Jan 10, 2008
__________________________________________________
OMG ...
I am exhausted and emotionally drained. It was an horendous experience and the smell! It is not uncommon for me to be around smelly things, let's face it I deal in poop and pets, but this was very different.
Tonight the smell of vomit, sawdust, carrot, something that looked like maggots (yuck) rotting flesh and what I think is possibly sheep poop.
Today I was a transporter. A different task for me in such a strange case, but a transporter all the same. A frantic call yesterday from a friend Cathy of JRT Rescue saying there were many JRTs doomed to be shot by a careless person who needed them out ASAP. So, in a pinch for urgent housing, and with no means to transport them in such a panic, I offered to make the trip, assess them and house them for a little bit.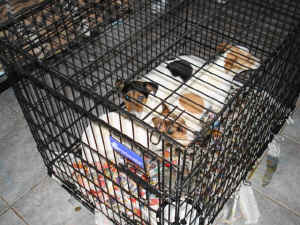 I was pleasantly surprised as my imagination ran wild imagining these dogs in terrible shape, but a closer look things became apparent that they were not without issues.
One with a rotten mouth (and I mean rotten) with infection so bad I gagged when I opened it and another clearly lost her pups today.
They are in good hands and we will watch them closely through the night. I am pleased to have seen them saved and obviously from a place they were not loved or cared for.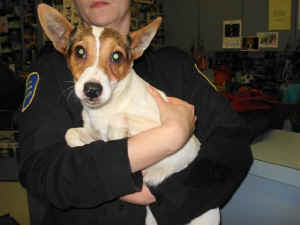 I am looking forward to hearing about them in loving homes in the future. "Heads up you three ladies there are great days ahead for you."
If your looking to help these JRT's please contact the JRT Rescue or email them at adoptions@russellrescue.org, they need all the love and help they can get. They are one step closer, but miles to go.
------------------------------------------------------------------

|

Share your Comments (4)

with us.
Jan 9, 2008
__________________________________________________
Babes
I was expecting them after the call yesterday, but deep down I was hoping they had found somewhere else to go. Five kittens and a mom; yikes! There was a brief second of oh how cute, followed by a much longer ouch ... where do we put them? As you can tell by the cat adoption page, there are many and tomorrow I will likely add 13 or so more. It is a full house and space is now limited.
This is common every year at this time and we knew it was coming as the cold weather brings them in and we brace for the full house. But, for some reason this year it feels so much fuller. Likely all in my head and likely a bit of the overwhelmed feeling we are all get when the kittens arrive.
With the cute babes in today I should have been excited to see their tiny faces but sadly instead I am not yet over the last babes being with me so long. Five babies means no room in the double cage for them and mom which means two spots - spots which are valuable and at a premium.
I must admit I was feeling rather off and then the next person walked in and said "I am looking for a kitten" and a smile came to my face. Instead of showcasing all the cats available I headed to that box. Three times in a row I headed to that box and by three o'clock I was three kittens down.
Although three adult cats adopted might have helped the space, these three don't have to spend weeks with me. No stress for them and those remaining two will have their mom and be happier and healthier babes for it.
Phew. Thankful for those adoptions today and to still be smiling.
------------------------------------------------------------------

|

Share your comments

with us.
Jan 8, 2008
__________________________________________________
Barney
Poor Poor Barney!
Today I made a new friend, a grey-muzzled senior named Barney. At 10 years old this fella had grown old with his owner. Unfortunately, she grew a little older and can no longer care for him. This poor boy who has never been away from her side is beside himself today searching for her.
Thankfully he enjoyed his time with us and I hope this has taken his mind off things a little bit. I realize it will be difficult to find a boy, at such an age, a home but I have faith in the OSAS people who have pulled through before to help other elderly animals. Those like Mitzi and Ol Roy, who needed TLC and loads of love in their final days.
This boy is so full of life and has a few great years to give anyone who can love him. Barney is a ready-made dog and exceptional family friend. Here' s hoping his stay with me is short and he adjusts quickly in a new home.
My heart breaks for you Barney and it just about killed me to drag you back to that cage. I am putting the word out for you good boy. Let's hope it might have been one of the last times to take you back there.
------------------------------------------------------------------

|

Share your comments

with us.
Jan 7, 2008
__________________________________________________
January Blues
It is the first day back after the school break and I brace myself for the phone calls. I know they are coming soon. They will be calls of "...we got this dog and, well, it was fine during the summer and then, well, it was Christmas and we just did not want to see him homeless at Christmas and well now it is January and it is really not fitting our schedule..."
With nicer weather today so far they have been avoided. I also prepared for "...we got this puppy and, well, now that we are back at work he is crying and chewing..." but, it is likely too soon for this one. I do anticipate "...but it is so cold and he prefers to be an outside cat so now that he is in he is angry and I am not sure what else to do..."
But, today there were none. Today was all good with the adoption of Molly the cat who had been with me for a few months and Satin the dog who stayed about the same amount of time. It has been all about how this pet seems to be well fitted and the timing was right.
I hope to be able to put those other thoughts out of my head for a while. I would love to assume that they will not happen. Let's hope.
------------------------------------------------------------------

|

Share your Comments (1)

with us.
Jan 4, 2008
__________________________________________________
Ginger
There is always a bit of excitement that happens when a dog comes through the door, especially when there is no person attached. We quickly shuffle to contain it, make sure the cats are safe or whatever else may be wandering and search for the owner and as protocol dictates we search for vehicle and plate too.
But, when I saw this familiar face in the foyer, I was heartbroken, recognizing this bundle of fun as Ginger. I remembered her adoption and how pleased they were with her and how she reminded them of their dog that passed and how she was a dream come true. I felt a moment of sadness and then relief when I saw the smile on their face followed by "...we are here for a visit".
Ginger was an elderly chocolate lab from about a month ago who had come in today merely to show off her family and to brag about how great life was. She wiggled and bounced and I tried hard to snap a photo, but with her excitement it was hard to get a great one. She wiggled and wagged and jumped and skipped (elderly?). After a brief visit she headed to the door obviously making it clear that her stay with me was temporary and she was quite happy to leave.
They spoke of how she had filled the void and fit in so perfectly to their home and how she enjoys all the luxuries and even carrots for treats. I was flattered she was so happy to visit (who loves the dog pound??) and touched she was happy with her people, and excited to again leave.
Kisses my friend and good job!
------------------------------------------------------------------

|

Share your comments

with us.
Jan 3, 2008
__________________________________________________
Teeter
Two weeks ago he was on the streets in Kitchener, hungry and cold. A beautiful boy with no where to go. A friend of the Shelter saw him and asked me for help. Limited in so many ways (as this was not my area) I told her to contact her animal control.
They were a help and agreed to take him. Not entirely a surprise to me, as it is the reality that the world faces, not everyone is a no-kill shelter. Unfortunately, not reclaimed, this semi-feral boy with a folded ear was not likely going up for adoption.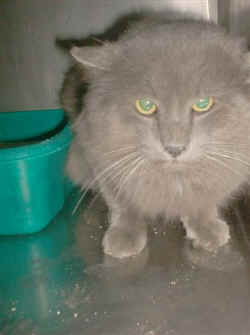 I was feeling responsible for his fate and his death was on my conscious. I advised her to tell them we would take him and today he was saved. The BIGGEST THANK YOU to my friend Claire who without hesitation picked up this boy and brought him to the Shelter.
Now named Teeter in honour of the one who first saved him from the streets; he is now safe and in my care.
Thank you too. My conscious is clear and another life is saved. I am looking forward to seeing pictures of him in the future of him in his new home, relaxing on the sofa, warm and with a fully belly, just as every beautiful boy deserves to be.
------------------------------------------------------------------

|

Share your comments

with us.
Jan 2, 2008
__________________________________________________
Greyster
They say the way you start the new year is an indication of how the year will go. I can only hope, as my first visit of the day was a home for a dog in from the "transporters" from another shelter on Saturday.
This dog was a combination of greyhound and Husky (a greyster purebred) which needed out of the city where there was room to run. Now, only a few days later he has found just that (and now can live life).
They asked all sorts of questions, spent the time with him and shopped for the proper equipment before taking him. They even purchased a gentle leader. Barley left with the right equipment and if everyone leaves like this in the year ahead I will be thrilled.
The next adoption was Mona, an elderly black cat, who has been with us since November. Mona went to an elder home where they just wanted a cat to sit with them. They selected according to personality and to the one that matched them best. Again, if all leave this year with thought involved I am thrilled.
The day ended with the capture of a river cat we mentioned in blogs before ... now off the cold streets, life is about to get better for this kitty.
Here's hoping this is an indicator of good things ahead and that 2008 will be great!
------------------------------------------------------------------

|

Share your Comments (1)

with us.
Jan 1, 2008
__________________________________________________
Happy New Year!
Welcome 2008 and goodbye 2007. It was hard to see 2007 go as it was a wonderful year for us. Many updates to the facility were completed and included the dog outdoor attached runs, more ventilation and even an outdoor garden.
The Shelter has spruced up its' appearance even more and is operating even better. We even scored a dishwasher! Our animals are less stressed, healthier and are happier. More lives have been saved than ever before and our spay/neuter and medical fund has changed the fate of many who would have not survived without it.
We have helped those on death's door and who were deemed unadoptable. Some were Will, Kisco, Chrissy, Scarface and Bubbles to name only a few. We have helped others by joining forces with a number of rescue groups and can now save lives from other places too.
Our cupboards are full of food, blankets and our year has ended on a fabulous note with lots of happiness and love in our hearts.
The book Parables From the Dog Pound touched many people, the blogs are keeping people educated and informed. Our website has become a regular part of people's lives.
The Owen Sound Animal Shelter is celebrating its' success today with the end of another great year. We are looking forward to the year ahead with more changes planned (shhhhh top secret - stay posted I know you will love what is coming).
Thank you for your support this past year and helping us to help the animals.
Thanks to Candice and Sandi without which we would not be. And thanks to Elaine for looking after our web site.
The best to all of you and especially those who have been given a new leash on life this past year!
------------------------------------------------------------------
Jan 1, 2008 | Share your comments

with us.
2000-2009 © Owen Sound Animal Shelter. All rights reserved.