OSAS by: Renee Robins
------------------------------------------------------------------

Recent Posts
-------------------
July 29, 2008
__________________________________________________
Transporters Needed;
CAT ADOPTIONS NEEDED;
Tanglefoot;
No Space at the Inn;
Eddie and Cosmo;
Ben;
Lunch'N Learn;
Shelter Syndrome;
Little Eek;
Cootie;
Skippy;
Momma and Babies;
Le Chein;
Two Cute;
Stray or Abandoned?;
Dynamic Duo;
Brother's Steve and Rob;
Despicable Behaviour;
Roxy Roller;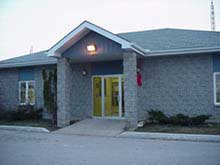 Archives
-------------------
Jun '08 Blog;
May '08 Blog;
Apr '08 Blog;
Mar '08 Blog;
Feb '08 Blog;
Jan '08 Blog;
Dec '07 Blog;
Nov '07 Blog;
Oct '07 Blog
Sep '07 Blog;
Aug '07 Blog;
Jul '07 Blog;
Jun '07 Blog;
May '07 Blog;
Apr '07 Blog;
Mar '07 Blog;
Feb '07 Blog;
Jan '07 Blog;
Dec '06 Blog;
Nov '06 Blog;
Oct '06 Blog;
Sep '06 Blog;
Aug '06 Blog;
Jul '06 Blog
Jun '06 Blog;
May '06 Blog;
Apr '06 Blog;
Mar '06 Blog;
Feb '06 Blog

email your comments to:
owensoundanimalshelter@inmail24.com

Success Story:
- They made it... read Renee's blog;
- Read Todd's Interview;
- Little dog pulled
from icy water;

Keep up-to-date
with our schedule.
Roxy Roller
For some unknown reason that pup with the untraceable tattoo came with the name Roxy. She liked it, it suited her and we kept it. It seems I preferred to call her ROXY ROLLER and singing it like in the chorus from the song.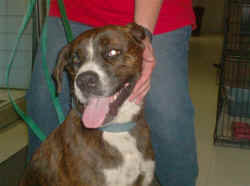 While we waited for her reclaiming period to come up, there was a great couple who showed interest in her. I explained they had to wait in case someone was looking for her. They agreed and waited. The weekend passed with me singing that chorus to Roxy every time we encountered each other, and it resulted in tail wags and butt wiggles. I tend to think she liked my singing? lol
When Roxy's reclaiming period was up, they came for her, pleased and telling me of the tales of their dogs in the past. Then we discussed the life ahead of Roxy. This traveling girl who may or may not have originally come from BC (we still don't know) will now be traveling again. They vacation in Florida! are Motorcycle drivers and I asked if this girl might get a side car. Then the image appeared in my head of my girl perched in that side car heading to the US with Doggles over her eyes with 'Roxy Roller' blasting on the radio. You go girl!
Here is the Happy Tail from the new adopters:
"Good morning Renee/Sandi, Just wanted to let you know that Roxi has settled in beautifully and she will only become more relaxed. You were absolutely right Sandi, she is like Velcro and has so much love and affection to pass out to whomever will take it. We crated her last night for sleep. She put up a fuss for about 5 min and then never heard a thing until I got up this morning which was great more than we expected. She had her bath , was excellent for that, got a good brushing and looks brand new and ready for her new life with us J

She is very well mannered. She is sitting for me and shaking a paw and comes pretty good when asked. She loves to run back and forth to Lloyd and I out in the yard and has been off leash since about an hour after her arrival. We'll be back in next week sometime for the micro chip, any time better than other you can let me know or perhaps I should call ahead, Monday is a good day for me as that is kind of /sort of my day off. Roxi has a bed in our family room and down in my office which she seems quite smitten with. Anyways without going on forever, just wanted to let you know she is settling in J Thanks again for a great pooch." ~ Gayle
----------------------------------------------------------------

|

Share your Comments (1)

with us.
July 28, 2008
__________________________________________________
Despicable Behaviour
In the Owen Sound Sun Times tonight I read "Owen Sound Police are trying to track down two men who committed a "despicable" act of animal cruelty. Officers were dispatched to the east harbour at 1:30 a.m. Sunday after a call about two men throwing a small cat into the water. Police arrived and saw the cat clinging to a chain. They called the City Fire Department, but the cat had disappeared below the surface of the water before firefighters arrived, an Owen Sound Police news release said. Police believe the cat drowned."

A call came in to the Shelter this evening, a person spotted a floating cat carcass, leading us to believe the same cat has in fact perished.
Anyone with information, particularly the person who first notified the police is asked to call the Police or please call me (519) 372-1123 or Crime Stoppers at 1-800-222-TIPS(8477) or text TIP312 and your message to CRIMES (274637) - you can remain anonymous.
I would sure like a chance at finding the people that did this to the cat. This is a terrible way for any animal to die, and those responsible should be punished.
If anyone saw anything strange, or persons gathering at the Harbour you could have valuable information. My heart breaks for this poor soul, and I would love to make sure its' loss of life is not for nothing.
----------------------------------------------------------------

|

Share your comments

with us.
July 26, 2008
__________________________________________________
Brother's Steve and Rob Ritchie - Tanglefoot
I finally met the Brothers Ritchie - Steve and Rob - Tanglefoot - who performed at the Knox Acoustic Cafe for the Shelter.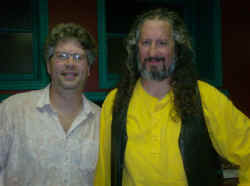 Last night, at the Knox Acoustic Cafe, We spoke, we chatted, I blushed (scary talking to stars lol) I spoke (was nervous) and was entertained by Tanglefoot's great charm, laughed with the crowd, and loved the music.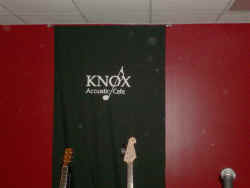 The benefit concert for the Shelter was a success and the duo ROCKED!
Months ago, Buttercups mom (also Susanne Seaman to some) contacted me, and offered to help the Shelter. She had a great idea "knew this band" and was pretty certain they would help. I did not realize they would fill the house nor did I know that they would offer all proceeds to the Shelter.
After chatting with these two, I learned that they were dog lovers, had adopted from me before AND had the biggest hearts.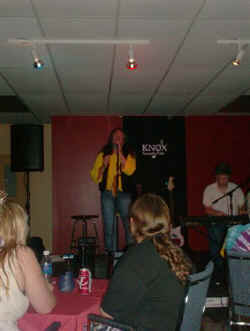 My deepest gratitude to The Ritchie's, you have found a new fan with me!! (and if you need another dog I know where to find one!) AND to the Seaman's, and to Knox Acoustic Cafe, from the bottom of my heart ... awesome - thank you; we are forever grateful.
----------------------------------------------------------------

|

Share your Comments (1)

with us.
HAPPY BIRTHDAY to Graham Henderson
who took donations for the Shelter
instead of presents for his birthday
July 24, 2008
__________________________________________________
Dynamic Duo
Tomorrow they make their debut and their story will again be told.
That lucky pair thrilled with being alive after being thrown in the garbage, are now ready to find homes. They will be the featured pet on the Mix Morning Zoo - please listen for the entertainment. This pair full of life are sure to bring joy to the Studio.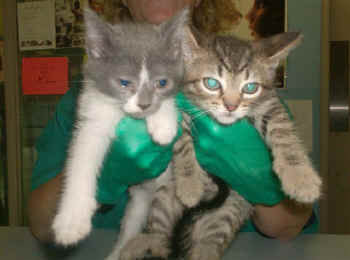 Their home will require a careful eye as their needs will be a little extra for a while as they are so small after all they have been through and I sure hope to get them placed together. Together they have fought the odds and took comfort in all they have been through together.
Here's hoping someone is looking for not one, but two - or maybe three (mom is still waiting too - hey I can hope?).
Speaking of hope, I have decided Hope will be the name for the little girl and Chance for the little boy. As it was with a hope for a chance they came to me and that Hope for a Chance they fought to live. I'm hoping that chance comes for them; my sweet little two.
------------------------------------------------------------------

|

Share your comments

with us.
July 23, 2008
__________________________________________________
Stray or Abandoned?
There was some confusion from the start, a dog left abandoned, who was a pit bull, originally. There was concern for many reasons, but I offered to help. As we are a pit bull friendly shelter, I knew I might be her only hope. When I heard there was a tattoo, I was relieved in assuming she was a stray and thrilled when I heard that tattoo made her a registered Bull Terrier.
When I met the Boxer mix this morning, my questions to her were "who are you" knowing of no Boxer coming in and then when I discovered this dogs story, the confusion grew.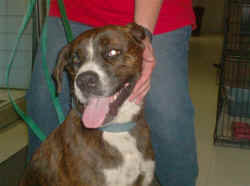 This Boxer mix was tattooed, but not a Bull Terrier or a Pit Bull. Then the fun began as I searched to trace it, knowing there is always the chance an owner could be looking - I had to get a name or some history which is always an advantage.
This pooch's tattoo read P5A 12. So, I called all clinics with a similar code ... Seaforth, who does not do tattoos and two others with nothing recorded for that code. Then I called CKC in the hopes that if it was not a vet tattoo, maybe it was a breeder tattoo.
CKC reminded me they only register purebred dogs (thanks for that - I know) but then told me they had that code registered to a lady in Surrey BC. So, I called the number (not in service) - check the name on Canada411.ca to locate her and I call. This is where it gets weird. She does not breed dogs or have Boxers or mixes. She has dogs, but not from Ontario and has none in Ontario. This, therefore, is now a dead end. A real bummer. I will hold her the reclaiming to be sure before putting her up for adoption. but in the meantime I will be searching for answers.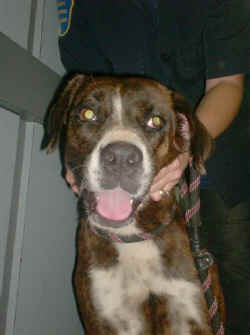 Clearly this is a dog misplaced or perhaps on purpose. I will be glad to see her in a home and will be thrilled when she has some proper ID to keep her in it!
------------------------------------------------------------------

|

Share your comments

with us.
July 21, 2008
__________________________________________________
Two Cute
Two of the luckiest little kittens are available soon, needing names and I need to tell you their story.
One male and one female kitten were found at the compost site, under one week of age. I remember the call and I remember asking the caller if the eyes were open. When they said "no", I remember being heartbroken - sure those babies had no chance and sure that without a mom I would watch them die, but I had to try. Without a mom in sight and no guarantee there was one (kittens could have been thrown out) I had to take them but was I just prolonging the inevitable?
With the help from the angels, I am sure, a mom and five babies are surrendered that same day. These babies were weaning age and the week old kittens would be at risk without a mom, I had to take the chance to see if the mom would take them; I would know right away. I put them together and hoped for the best.
Thankfully, those two are now at eight weeks of age and those darlings are ready to go - so good to go! They are small for their age, I must admit, as they appear to be only five weeks in size.
I'm searching for names to post them with! Do you have any ideas? Maybe Lucky and Ducky? Thankful and Amen? Happy and Tickled Pink? Phew and Wow?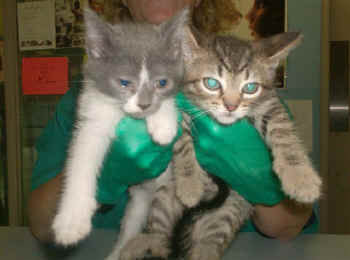 The grey and white is the girl and the tabby is the boy. Does that help? Send me an email with your names (osas@bmts.com) and I will use them for their posts.
------------------------------------------------------------------

|

Share your Comments (5)

with us.
Sadie-Jean...>
July 18, 2008
__________________________________________________
Le Chein
I was sweating a little from the heat and rushing all day (four stray dogs, all reclaimed, three pups in, one out, one cat out, one cat in) but honestly it was my nerves that were making me perspire. Today, I had a summer school visit with my new friends at Domonique Savio French School.
Animals are my specialty and French is on my list of 'to do's" (long list - lol). So, I gathered momma the guinea, her new pal Soup Soup, two adult rats and Montel my dog. As I drove, I began to fear the French thing ... le chien was all I could remember ... how on earth do you say guinea pig? Couchon is pig? Well, I hoped I could wing it with "le chien mange le chein food"?
Suddenly I was at the door and greeted with Bonjour Madam and the sweat started. I replied with "Bonjour ..." and then the words were gone. Quickly I smiled and said "Je ne parle pas français" and quite suddenly the conversation went to English (thankfully). I spoke to the children about animal care and how to love a pet. Many of the children admired the menagerie I had brought; even the rats.
There was a mix of English and French and really I just went with it and did use my brain and quickly added "Le Ratatoulle" (the children's Disney movie about the rat, which I knew thanks to my kids) and the children burst into laughter and excitement. It sure broke the ice and created a whole new look to my rat friends. They were looked at with such admiration and they both found new homes! Hooray!
In case you have not seen the teaser of "Le Ratatoulle" http://www.youtube.com/watch?v=nYUjNQrokeg check it out ... lol
------------------------------------------------------------------

|

Share your comments

with us.
July 17, 2008
__________________________________________________
Momma and Babies
She was noticed outside the Grey County building in about February, and they were not really sure she was homeless. She came and went and sometimes peeked in the windows. Many brought her treats and food, and she managed to survive until the snow melted. Early spring they spotted her with her baby in her mouth and when they followed her and they noticed she had found the smartest of places where no predator could get them, but also one no one could help to get them either. These babies were under the building!
I crept under the barrier, and lay on my stomach and reached as far as I could, but these tiny babies were further than my arms could reach or my eyes could see. Live traps caught mom, with no chance of her moving them further away but then I started to worry about them all alone underneath and not so sure how much they could eat. Food was left, and they ate it, and we continued to try to find and catch them. Thankfully we had help from some kind hearts who worked there and slowly but surely eight kittens joined mom. It took the whole weekend of trying every few hours, constant baiting and lots of waiting. The last babe was adopted earlier this week and all found homes. Now mom waits.
Today, I had a visit from those kind hearts and with them a surprise, a fundraising BBQ which was held with proceeds for the Shelter!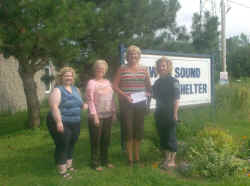 Monies raised, supplies gathered, paper towels and garbage bags too (my favourite)!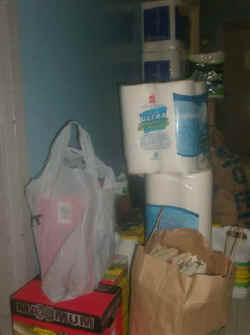 Thank you ladies for your support, and for your contribution. It was our pleasure to get the cats off the streets and into loving homes. Watch for Greyce available soon!
------------------------------------------------------------------

|

Share your comments

with us.
July 16, 2008
__________________________________________________
Skippy
He came with the name Skippy and we were not sure why, but as it turned out it was appropriate.
He was a dog from a Windsor pound where his time up and he would have been euthanized - they agreed to send him to us and neutered and vaccinated him before he arrived.
When I met him I noticed he was very thin, and not a prime candidate for surgery. When we checked his hind end we noticed it was very large - so large, in fact, he looked still intact, so I gave him a little squeeze just to check and when I did he let out a scream and my hand filled with blood and puss. He was, in fact, neutered but had a wicked infection and this boy was needing some serious help. So, Skippy, became unavailable and we started medications.
This boy blossomed in our care, put on a few pounds and his infection healed - although he did walk a little funny which made his name, Skippy, the best name for him.
Today, Skippy, went back up for adoption feeling better and looking great!
A family met him on his second day in, visited and called every day after that. And, today, when he became "good to go" we called them and they rushed over ... pleased he could go home with them where they have fields to run, adventures to have and all his ailments behind him.
We saw him off, skipping to a different beat now, with a smile on his face ... way to go Skippy!
------------------------------------------------------------------

|

Share your comments

with us.
July 15, 2008
__________________________________________________
Cootie
It happens. Sometimes people find stray cats, sometimes they do what your gut tells you to, you feed it, you pet it, you bring it up and/or into your home. In that process the cat is spooked (most hate a carrying cage and/or a car ride!) and then the person is scratched or bitten.
At this point w have a world of problems. Problem 1: cat scratch fever as with any scratch or bite you are susceptible to an illness and it is a doozy - affecting lymph systems if it gets bad enough. Problem 2: a bigger one really is that the cat is not vaccinated or we have no record of it and potentially it is a carrier of rabies - which is unlikely but possible and for this reason we suggest you leave the cat catching to me.
Cootie was found as a stray and as kittens do he scratched his finder. For this reason we had to quarantine him for rabies, and for this reason I named him Cootie (don't touch that cat he is under quarantine for cooties)? Turns out a kitten named Cootie is hard to place, especially when I tell people why we named him (oops). However, today he finally found a home, rabies free, and cootie free, this fella was all clear :)
Three people were spooked about the story, and it is unfortunate as this turns into Problem 3: picking up a stray kitten makes it harder for me to adopt him out.
Happy to see Cootie go home and I'm using his story as a lesson to others.
------------------------------------------------------------------

|

Share your comments

with us.
July 14, 2008
__________________________________________________
Little Eek
I know this is a little different, but he is a different sort of little fella and he needs you to keep him in your thoughts. Failing to thrive, of course, he is the one I have fallen for most.
This little funny rat, I have named EEK, the poodle rat with the crazy hair, likely as a result of inbreeding, who does not grow and reminds me much of my Rocket Man with his inabililities to be big.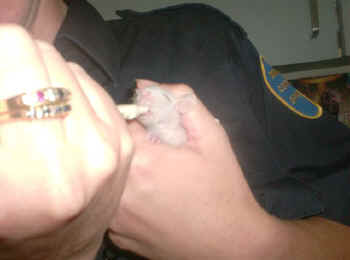 When people came to adopt him, I found myself telling them he was not available, a sure sign that I am falling in love ... oh man, but when he was looking rather down today, I realized that I had already fallen. I know he is a rat, but every life is worth a chance, and every chance means lots of love. Here's hoping we can save him, as we have before with the power of love? That and the advanced feeds he is now getting.
Good luck little EEk ... I suspect if you can pull through you have a home with me and will be part of the Robins' family. What is another little "special" addition?
------------------------------------------------------------------

|

Share your comments

with us.
July 11, 2008
__________________________________________________
Shelter Syndrome
I had the best of days and a slap in the face - or rather we all got a slap in the face. OK, honestly, it was only one person today who brought us all down and it still feels bad.
There was one lady who had nothing good to say today. This lady wanted a tour of the Shelter to show her kids what a shelter was all about. They viewed the cats and chatted for a moment about each of them, the dogs, the rats and chatted and chatted some more. Then she said "I called you a few years ago about a stray dog I had. If I would have known she was coming to a place like this I would have never called". Todd, Sandi and I stood there... stone faced in shock! We practically live at the Shelter, spend hours cleaning, feeding, medicating, playing with pets and have given up our entire lives to make a difference in their lives. We took that insult with a smile and she continued to move to her next issue as she hung around looking in disgust at "the skinny cat".
People who have never taken the time to come to the Shelter, who have never seen the before and after of the City's unwanted, unloved and forgotten animals could do with a briefing of what our Shelter does. Most of these animals come to us in bad shape and go to new homes in a better frame of mind, not to mention looking and feeling better for having stayed at the Owen Sound Animal Shelter.
So, as she finally headed out the door - leaving us with her negative thoughts - in walked an adopter for Netty, and then one for Jazz (two long time cats), one for Avalanche, and an adopter for two baby rats.
As things started to look up, I instead focused on the happy feelings of having new forever homes for those pets who would otherwise have been forgotten in our no-kill Shelter. Sheesh!
------------------------------------------------------------------

|

Share your Comments (8)

with us.
July 10, 2008
__________________________________________________
Lunch'N Learn
Today we lunched and learned. Thank you to Linda and Ray of Invisible Fence, for the great lunch and for the valuable information.
This lunch-time session provided us with information we needed to know about and great ideas too. For example, all of you with cats that just won't stay inside, are not left inside and just don't get it - how about invisible fence? Honestly, the thought never crossed my mind and it really should have. This will not keep your pet safe from predators, fleas, ticks, or the elements, but it will keep your cat home (and I like that).
On the subject of fencing for cats, we had another "stray" kitten in today and still not one cat adoption. You bet'cha - up with the stress level. I don't expect it to be reclaimed; they barely ever are, but here is hoping. Maybe there should be more invisible fencing in Owen Sound?
At the Lunch'N Learn, we spoke of the training aids they can also carry in their line of products, and I was impressed by the heated pet beds, the automatic self cleaning litterboxes (that work on their own - not on cat stimulus - cat enters box ... boy I need about 50 of these lol), the feeders and the bark prevention collars. More impressive than the information, and the products was the compassion and caring that was obvious from Linda and Ray. These people are not looking to sell products, they are looking to make a difference, and that I like too. Check out Invisible Fence and ask questions ... I know I did and enjoyed the meeting.
------------------------------------------------------------------

|

Share your comments

with us.
July 9, 2008
__________________________________________________
Ben
It was as though it was meant to be, like a piece missing in the puzzle. They came searching for a companion and had someone in mind - the perfect match, someone special, and it was only moments after their arrival they asked to meet him.
We know him as Ben, or Ben Ben the fireman by some, or Benny Buddy by others. A great boy, with the biggest heart, also slated to die in another shelter. The intent in their eyes shown through as we spoke of him and the love in their touch was obvious as they stroked him. I watched them play outside and I could feel the fun they were having.
Ironically, when we spoke they mentioned that they had already figured out the name they would like to call him. For him they had chosen the name 'Zen'. Perfect, as I assume this means finding your inner self, your contentment and your puzzle piece. As they were making the final decision, a smile came across my face, as I notice the vehicle outside.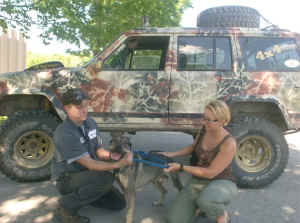 A camouflage jeep, ironic, as he blends right in with it. I had to snap a photo, as no one else would have believed it. This dog, Zen, was exactly what they needed and fit right in with them. He fit in so well that when he stood with them beside it ... he vanished :)
------------------------------------------------------------------

|

Share your comments

with us.
July 8, 2008
__________________________________________________
Eddie and Cosmo
I remember when he was surrendered as "...the dog that was a waste of time..." that was "...mean, hated people, and did not deserve to be in the home". He was busy, snappy, and hated the kids, and really was all trouble. At 4 years of age they were done with him, and so he ended up with me.
At first, we were a little unsure of just how he would be. but in no time, he proved he could be trusted, was deserving and likely he was just not in the right place? Today, Cosmo, came for a visit. So proud of himself, strutting and showing off his new dad.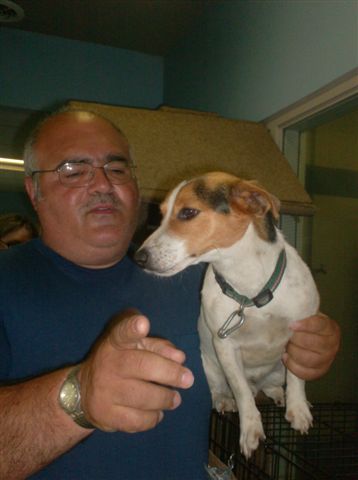 My favourite was watching his person's eyes light up as he spoke about how wonderful this boy was and how smart. He told me of the tractor rides, car rides, and the adventures in the hay tunnels. He was proud, too, proud of the friend he now had. I loved every minute of it.
Shortly after Cosmo left, we had another visit and just as great! Eddie, my friend, came for a vist who is now affectionately called 'nitwit'.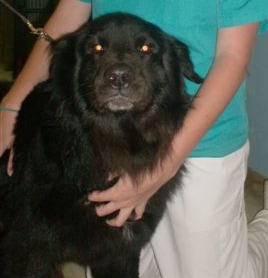 Sporting his new 'do' which he maintains with a visit to the groomer weekly!! As his mom spoke of the one hour walks they enjoy each evening, I saw that sparkle in her eyes, and I was again thrilled. Once almost thrown away, this boy too, was given a second chance and a new better life. How great is that?
------------------------------------------------------------------

|

Share your comments

with us.
July 7, 2008
__________________________________________________
No Space at the Inn
We were celebrating with the adoption of Peter on Saturday and a cleared spot, Peggy could come back out, leaving an empty spot. I cleaned it early, preparing for the shuffle, little did I know it would be late when I used it and it was for another.
I was happy for a few moments, but as the day wore on it was "...the stray mom and two kittens under my deck..." the "...five motherless kittens down by the marina..." and "...cat that needed surrendered as mom can't breathe...". So, one down, and if you add that up; nine in. Luckily, moms and babes go together and babes and babes from the same place go together. This means technically only two places needed, but it also means nine more to go home before there is one space.
Anyone with an unaltered cat at home, imagine for me the stress this can bring for us. There is no place to put them, and I can't leave them out on the streets. Not to mention the illness, or the stress each of them can face with being crowded and stressing us out. These babes will be lining up for homes and there are too many. If less people had cats, there would be more homes for those that truly needed it.
There really is no reason for an unaltered cat, unless your producing show material purebreds. You're only taking up spots for those who need it and spots I need.
It is the same year after year after year. I hope with each year it will get better than the next. I guess I will keep hoping and waiting for that space to clear.
------------------------------------------------------------------

|

Share your comments

with us.
July 4, 2008
__________________________________________________
Tanglefoot
"Stan Rogers meets Van Halen" is how one fan described them and Tanglefoot is indeed a mix of sweeping Canadiana and rampaging enthusiasm. They are having a concert just for us!! A benefit concert to help us raise funds for our Surgical Room to keep saving lives.
On Friday, July 25th at 8:00 at the Knox Acoustic Cafe. Tickets are available now at the Shelter, contact me ASAP, as seating is limited and we only have a limited amount of tickets! Tickets are $15.00 in advance or $17.00 at the door.

Perhaps best known for their exquisite vocal polish and relentless energy, they're also a band with substantial instrumental agility and are a noteworthy group of songwriters. "Masters of the storytelling tradition, (with) elegant, sensitive musicianship and an impressive range of talent", according to BBC Yorkshire, while Robert Reid of the Kitchener-Waterloo Record called them "Canada's most accomplished musical mythologizers". How exciting!!
Can't wait to see all of you there.
------------------------------------------------------------------

|

Share your comments

with us.
WINNER OF THE KAYAK IS:
DANGERFUDGES! Congratulations.
July 3, 2008
__________________________________________________
CAT ADOPTIONS NEEDED
At 1 pm there were two cats at my door. A person we called two weeks ago to tell her we had space then (not that we do now) and today she made the trip and did not call first ... she entered the door first.
The second person had left a message two weeks ago, never spoke to anyone and decided to bring the cat in today - anyhow. I have no record of this call and wonder if she actually called us or someone else? I had no spots available. With a decision to make, I accepted the first one - first one through the door and turned the second one away. I will now worry about this cat until it comes to me what may have happened to it. The first cat waited in the hallway for most of the day while we prayed for a cat adoption that never came.
We did some shuffling and squishing and now Peggy is back out of the adoption room. I hate it when this happens. Our cats are officially full again. The worst part is that our vet (we have used for six years) has decided they are too busy for us and it will be at least September for any of our appointments. This means, as we all know, no one leaves as they are not spayed/neutered. URgh!!!
I am hoping that surgical room becomes ready real soon!! So, in the meantime, please tell your friends and relatives that homes are needed desperately and we have lots of great cats up for adoption!
------------------------------------------------------------------

|

Share your comments

with us.
HAPPY BIRTHDAY SIERRA
who asked for donations to the Shelter for her 10th birthday.
July 1, 2008
__________________________________________________
Transporters Needed!
We have space, we have dogs needing to move and the trick is all in getting them to us.
Typically a drive for those pups involves five or so travelers to reach their destination to me. Without transporters those dogs could not get to me and will not be saved. The reality is I can't help them without you. There are dogs waiting to come to me from Windsor, Hamilton and Toronto.
If you think you would like to help transport dogs, please email me. It can be arranged that you only travel in your neighbourhood - pick up and drop off at another location.
Dog crates are important, but not always necessary; a leash is helpful. I can lend anything that is required.
Please consider becoming a Transporter. Email me at osas@bmts.com today.
------------------------------------------------------------------

|

Share your comments

with us.
2000-2009 © Owen Sound Animal Shelter. All rights reserved.