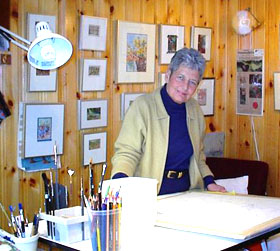 ABOUT THE ARTIST
Sandra is an artist with substantial credits in the art world. She is an elected professional artist member of the Toronto Arts & Letters Club and a past director of the Grey Bruce Arts Council. Has served on the Southampton Art School & Gallery as a juror & an advisor; she is one of the founding artists of the Art Town Collective and the "Gift of Art" in Newcastle, Bond Head. Sandra has studios in Mexico and Bond Head.
Sandra's teaching, jurying of artwork and volunteer consulting in art related areas are extensive. Her most valued education however has come from studio workshops taught by legendary artists and working with other artists of varied backgrounds. Sandra has a passion for art. Her teaching of children has inspired many students. She was nominated for the Citizen in the Arts Award.
Sandra's artwork is represented in galleries, exhibitions, corporate & private collections throughout Canada, United States, Mexico, United Kingdom, Australia, & Italy. Her goal is to create artwork that is visually pleasing to her viewers as well as true to herself.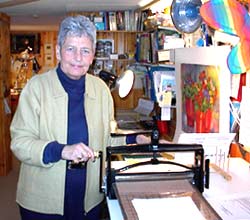 Through a blend of realism, and abstraction in her artwork, Sandra explores and reveals the interdependence of life.
Using acrylic, watercolour, traditional printmaking, encaustics and collage she explores the many possibilities of visual expression. To capture and clarify the image, Sandra uses vehicles of colour, line, light, shape, and texture. Inspiration comes from caring for her garden, travel, nature and her home environment.
ARTIST STATEMENT
" I hope to communicate what I see and love, in order to engage the viewer in a response. I wish to raise a concern as well as document all that we must protect & treasure or risk losing forever."



Sandra Walton-Ball