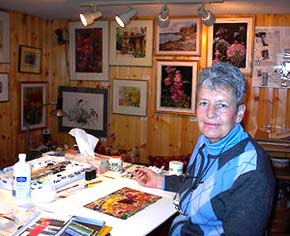 Sandra Walton-Ball is an artist living in Owen Sound, ON. Canada. She experiments with different media to explore the possibilities of visual expression. Her images of flora, fauna, and landscape are a reflection of her love of colour & nature's imagery. Though her style has evolved over the decades, her subject matter has remained constant: still life, landscapes and remarkable watercolours of flowers. Her unique images can persuade you that you are seeing a flower for the first time in an entirely original way. Sandra has exhibited since the 1970's and the single most remarkable aspect of her artwork has been her steadiness of vision.
She paints from her studio in an historic "Upper Canada Regency" circa 1853 home on the banks of the Sydenham River. Inspiration for her art comes from her love of gardening, travel experiences on four continents, nature and her love of the pristine environment of rural Grey & Bruce.
Please explore the web site to learn about Sandra's artwork. Go to her gallery. If you wish to purchase her original images please contact her directy by e-mail.